Overview of SFC Curriculum
The curriculum is structured around the Seminar and the Graduation Project, while different categories of courses focus on giving students the skills and knowledge necessary to participate in these two pillars of SFC learning.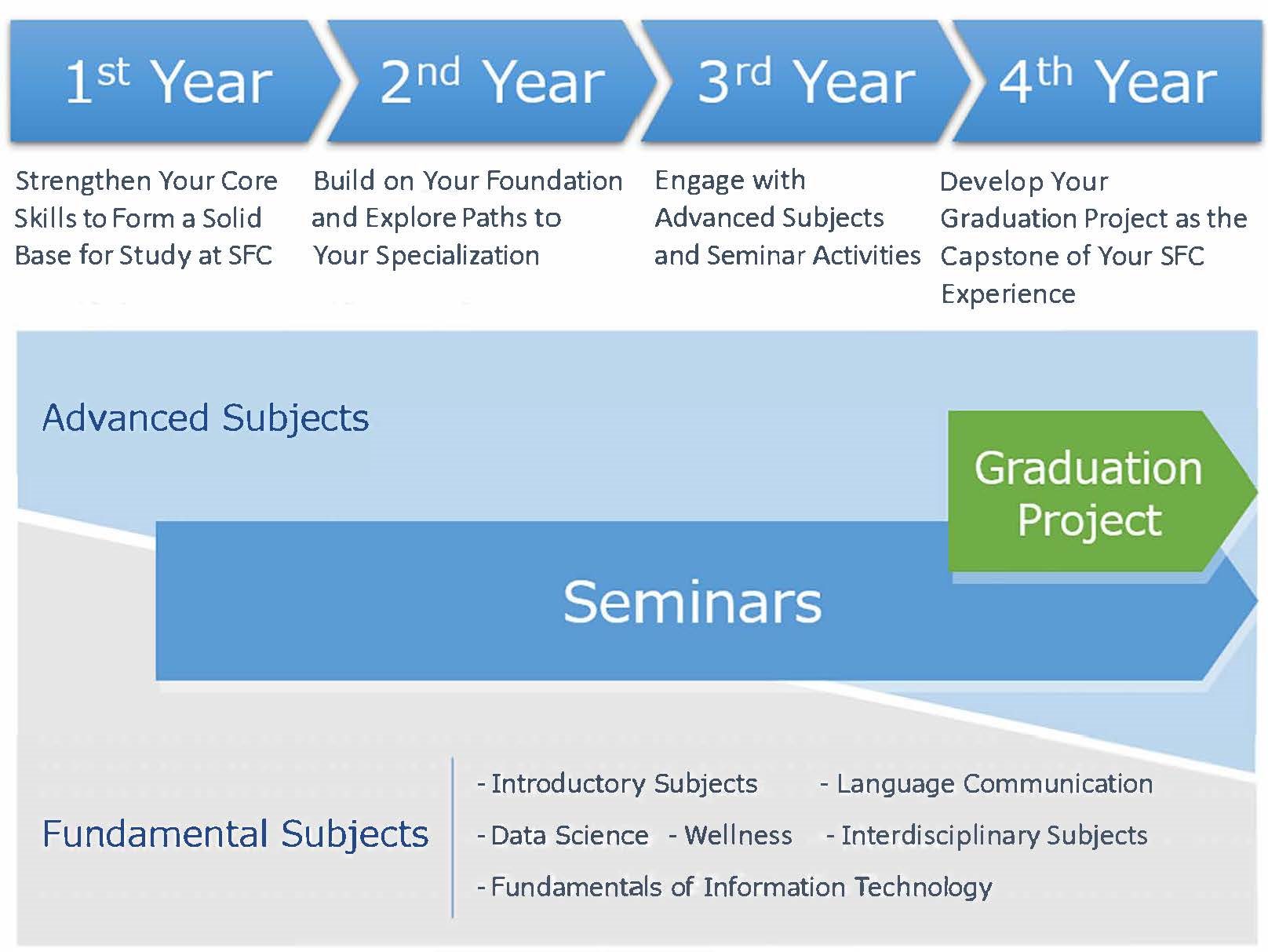 Overview of Course Categories
Research Seminars
Research seminars are positioned at the center of the curriculum. In order to practice the "Research-seminar-centric" concept, you are encouraged to explore various research seminars from an early stage after entering the University and find a research theme that you can pursue with passion.


Seminar (Kenkyukai)
The Seminar is central to activities at SFC where faculty members and students work together on a diversity of issues as a prelude to the Graduation Project. At SFC, students do not merely learn answers to given problems. Education at SFC aims to nurture and send out leaders of the future who are able to identify problems and create methods of resolving them. Towards this goal, the Seminar at SFC goes beyond the typical seminar or study group, and many Seminars are engaged in advanced activities such as collaborative research with businesses and research commissioned by government agencies. Through participation in such research, students work on real problems in society and gain a high level of expertise, and with this in hand, they embark on their Graduation Project that will be their "fruit of designing the future" as well as a personal proposal as they advance towards the future as individuals. For this reason, the Seminar is at the core of the curriculum. In principle, you can register for up to six credits from Seminars each semester (Spring, Fall) from your Second Year. Some First-year students with excellent abilities may also register for a Seminar.
Graduation Project
As a culmination of studies at SFC centering on the Seminar (Kenkyukai), all students produce a written thesis or create a work. Each student draws on the full resources of the creative, highly advanced skill set acquired at SFC to independently work towards the achievement of research results needed for graduation. These results can take the form of a thesis, other work, or notable research findings. The Graduation Project is the consolidation of a student's research into a tangible form such as a thesis or work, and should be completed while consulting with the student's Graduation Project Mentor for at least two semesters, after which it must be evaluated and approved.
Fundamental Subjects
Research seminars are positioned at the center of the curriculum. In order to practice the 'Research-seminar-centric' concept, you are encouraged to explore various research seminars from an early stage after entering the University and find a research theme that you can pursue with passion.


Language Communication
At SFC, where importance is placed on language communication, language courses are offered not only in English but also in Malay-Indonesian, Arabic, Korean, Spanish, German, French, Chinese, Russian, Italian, and Japanese. Students can acquire true competency through Intensive courses that meet four times a week in small groups, theme-based Skill courses, and overseas language programs where you can directly experience the living language. In other words, students will attain a high level of foreign language skills that can be utilized in document research and thesis writing, debate and negotiation, and fieldwork and presentations.
Data Science
Students acquire common fundamental techniques that can be widely applied to a number of fields. Studies include data acquisition, editing, and analysis methods; and modeling and simulation; as well as areas in mathematical sciences such as logic, probability, and algebra.
Fundamentals of Information Technology
Students acquire the programming skills necessary for masterfully using computers in creative endeavors. Knowledge acquired in these courses allows you to understand and utilize the fundamentals of information technology.
Wellness Subjects
Wellness subjects aim to connect mind and body, and develop students as human beings through education based on problem identification and problem solving, and they provide a place to practice the basic principles of "notice, seek, deepen, and convey." In "Physical Education 1," students having varied backgrounds get to know each other through doing physical exercise together while at the same time pursue discovery of individuality in the class group. In "Physical Education 2-5," students select individual sports to promote further self-discovery, explore and acquire body intelligence, and achieve growth as a human being. These courses are characterized by the learning of practical knowledge through lectures as well as the practice of skills.
Advanced Subjects
While taking Fundamental Subjects mentioned above, students will take Advanced Subjects that will lead them into their Seminar and Graduation Project. Advanced Subjects are more specialized and prepare students to conduct sound research for their Seminar and Graduation Project. A structure called "Aspects" enables students to create a concrete course plan in line with the specialty and approach to research taken by the faculty member who will oversee their Graduation Project.


Aspects
What are Aspects?
Every semester, SFC offers numerous courses across a wide range of disciplines. Students can choose courses freely without being subject to many restrictions. However, due to the large number of courses, students may be unable to identify courses that truly match their needs. "Aspects" give students a picture of how courses and Seminars relate to each other by breaking them down into their component parts (aspects). Aspects are designed to guide and help students discover Seminars and courses that may have been outside their field of vision.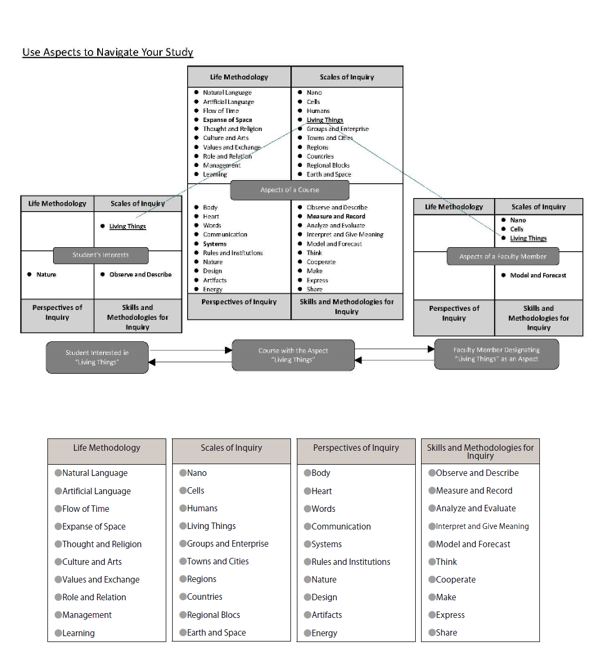 Aspect Groups and Method of Use
「Faculty members who are in charge of Seminars designate multiple Aspects, from a total of forty Aspects in four groups, that relate to their research fields. Also, for Advanced Subjects and certain Fundamental Subjects, multiple Aspects that characterize those subjects have been selected. Aspects of faculty members and courses can be viewed online.
Use Aspects when selecting courses or Seminars to investigate the Faculty member - Aspect - Course connections, courses having common Aspects, or connections between faculty members.


Significance to the Graduation Project
In order to apply for a Graduation Project mentor in the second semester of the Third Year, students must satisfy the Aspects designated by the mentor by the previous semester (the first semester of the Third Year). For details, see About Registration.