National Health Insurance (NHI or Kokuho)
International students who plan to stay in Japan for over three months are required to join the National Health Insurance (NHI or Kokuho) system. Registration at the NHI section of your local municipal office must be completed within fourteen days of moving into your place of residence.
NHI is one of the health insurance systems in Japan that allows the person insured to receive medical care with less financial concern when ill or injured by sharing the medical care expenses between national or local government and the person insured. With NHI, approximately 70% of your medical expenses will be covered when you receive treatment at hospitals or clinics that are NHI medical service providers (most hospitals in Japan accept NHI). You pay the other 30%. NHI does not cover expenses for cosmetic surgery, orthodontics, and normal childbirth, etc.
Please note that it is not necessary to join NHI if you already belong to Employee's Health Insurance as a dependent of a Japanese national civil servant or municipal civil servant, an employee of a Japanese company, etc. (Overseas medical insurance is not accepted.)
For more information, see the website of your local municipal office and the Keio International website.
See page 15 for the National Health Insurance information
Wellness Center (Health Center and Student Counseling)
Students at SFC may receive medical treatment and counseling at the Wellness Center located in the A building on campus.
The Wellness Center was established to improve the physical and mental health of students, faculty members, and the administrative staff at Keio University SFC. It is equipped to handle temporary conditions like colds and coughs as well as chronic conditions like hypertension. Physicians, nurses, and public health nurses are available for examination, medication, and treatment (including first aid). Counseling on academic, career, personal, and social issues is also available.
Medical consultation and counseling are available in English. See the SFC Guide (distributed at time of enrollment) for details.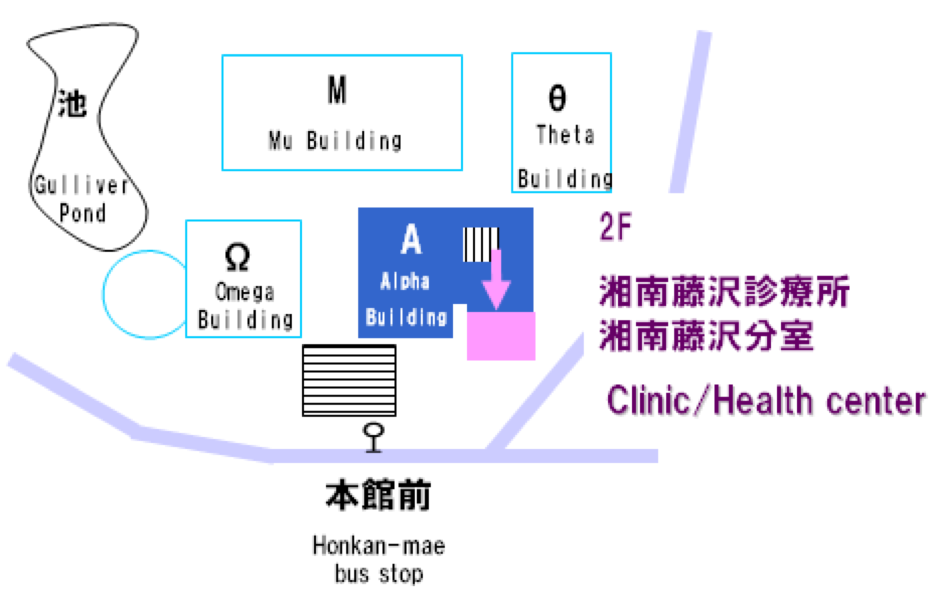 Student Counseling
Counselors are available to listen to and give advice about any problems you may have on campus or in your personal life. Your privacy will be protected and all consultation will be kept strictly confidential.
For further information, please refer to the PDF file below.
In Case of Sickness or Injury on Campus
Wellness Center (weekdays, 9:00 - 17:30)
Contact the Wellness Center (extension 52201 or 52207, or 0466‐49‐3411). Wellness Center staff will handle the following procedures; make calls to the hospital, make calls for the ambulance or taxi, replace the patient to the Center, provide first-aid until the ambulance or taxi arrives, follow-up after the treatment has been done, and keep a record of the incident. Wellness Center is located on the second floor of the Alpha Building.
Shonan Fujisawa Clinic (weekdays)
Medical checkup is available during Mondays and Fridays. For details, please refer to the Keio University Health Center Shonan Fujisawa Branchwebsite (available in Japanese). Shonan Fujisawa Clinic is located inside the Wellness Center.
During night time, Holidays, and outside of Wellness Center Office Hours
Call the Security (extension 52190 or 52191, or 0466-45-5114). Security staff will handle the following procedures; make calls for the ambulance, lead the ambulance to where the patient is located, check and keep a record of the patient's ID, call the police if necessary, and provide basic first-aid.
Hospitals located near the Keio SFC


Medical clinics offering treatment in languages other than Japanese near SFC
There are several medical clinics near SFC offering treatment in languages other than Japanese. Some of them require appointments and others have consulting schedules according to language. Please check the websites of medical clinics for details. All the clinics below do not have English websites, so it is recommended you make inquiries by phone.
Fujisawa Honmachi Family Clinic
Medical treatment in English available
TEL 0466-80-5815
Fujisawa Honmachi Family Clinic
Kobayashi International Clinic
Medical treatment in English, Korean, Filipino, Thai, Spanish, and Vietnamese available. Schedule differs by language, so please check the website
TEL 046-263-1380
Fujisawa City Hospital
Possible to request a volunteer interpreter for Spanish, Portuguese, Chinese, English, French, and Italian. Appointment necessary. This hospital accepts new patients by referral. New patients without a referral will be charged 2,940 yen.Please note that referrals can be obtained at the Health Center on campus. (Medical examination fee will be charged). TEL 0466-25-3111


Telephone consultation regarding medical matters in languages other than Japanese
AMDA International Medical Information Center
AMDA International Medical Information Center, a private, nonprofit organization, offers free telephone consultation in English, Chinese, Spanish, Korean, Thai, Portuguese, Filipino, and Vietnamese. They can provide information on clinics and physicians that offer services in the patient's language as well as information on the medical system in Japan. They also provide free telephone interpretation during medical examinations. Hours for services differ according to language, so check the website for details.
TEL 03-5258-8088